Custom Built Classic Car Exhaust Systems
We proudly offers custom exhaust work for classic and custom cars for residents in the Greater Portland, OR area. We have the expertise to repair your current custom exhaust system, and/or to also provide you with new custom exhaust installation too! We are passionate about custom exhaust systems and look forward to the opportunity to work with your and your custom vehicle. Unlike other shops, we will not force you to completely replace your current system, if a repair is really what is needed. However, often times, folks think they only need a custom exhaust repair, when in reality they really need an overhaul and replacement of the existing system. Whatever your current needs or concerns are with your custom exhaust system, Orchards Muffler is here to accommodate you, and to provide you with individualized service so you leave happy and satisfied.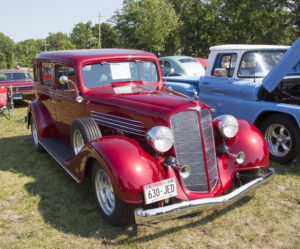 Antique Car and Truck Mufflers and Exhaust
When it comes to your custom truck or car exhaust system, Orchards Muffler can perform custom exhaust work from the exhaust manifold to the exhaust tips. We offer the following custom exhaust services:
Custom Exhaust Repair:

We will repair or replace your exhaust parts as needed

Custom Exhaust Upgrade:

We can upgrade your exhaust for better aesthetics, sound and performance

Custom Systems for Classic Cars:

We also do custom exhaust on antique and classic cars. We also work on race cars.

Complex Custom Exhaust Systems:

We have all the specialty tools needed for tough jobs, such as pipe benders, welders, and grinders to name a few.
Here at Orchards Muffler we are experts in the field of exhausts. We have extensive experience repairing, installing and customizing:
Catalytic converters
Manifolds
Mufflers
Resonators
Tailpipes
Flex pipes
Dual exhaust
Custom pipe bending
In addition, we have the capacity to perform custom exhaust services on a wide variety of vehicles including classic cars, custom cars, custom trucks, large trucks and RV's. If you have an automobile that needs a custom exhaust, call us and we will be happy to set up an appointment for a free estimate.