Muscle Car & High Performance Exhaust Systems
If you are in the market for a high performance exhaust system for your high performance vehicle or hot rod you are in luck, as Orchards Muffler is your one stop shop for an expertly installed system designed to provide you with the horsepower, growling, torque and increased gas efficiency that you crave. We have four decades of experience serving the high performance exhaust needs of those in the Vancouver, WA and Portland, OR areas and we have seen it all.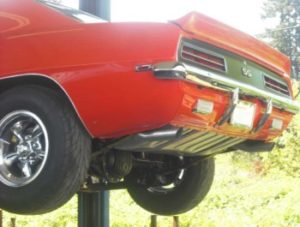 Power Matched Exhaust System
Your high performance vehicle needs an exhaust system equal in power and capabilities. By matching your engine's quality to the quality of your exhaust system, you will be maximizing your vehicle's potential while pushing its performance capabilities to the limit. All of our valued customers are amazed at the significant difference in vehicle performance after having a precision built high performance exhaust system installed on their custom car or hot rod. Whether you want to improve the aesthetics of your vehicle, increase towing power or reap the benefits of improve gas efficiency, Orchards Muffler is available to help you.
Expert Exhaust Installation
Already have a high performance exhaust system in mind for your rig? No Problem. Orchards Muffler can order your preferred exhaust system and expertly install it for you too! Our main priority is your satisfaction and we look forward to the opportunity to earn your business.
After Market High Performance Exhaust
An expertly built aftermarket high performance exhaust system can transform your vehicle and allow you to push its performance in ways you did not previously think possible. An exhaust system consists of an exhaust manifold or exhaust header, a front pipe, a catalyst converter, a main muffler from or silencer, and a tail pipe with an exhaust tip. Orchards Muffler has the expertise to help you with every part of your high performance exhaust and we can help you customize it to your heart's content. We understand the time and effort it takes to create the ideal high performance exhaust system for your hot rod or custom car and we are committed to providing you with the personalized service to make sure it happens right.
Call Orchards Muffler today for more information!