Our Waiting Room for Our Customers Comfort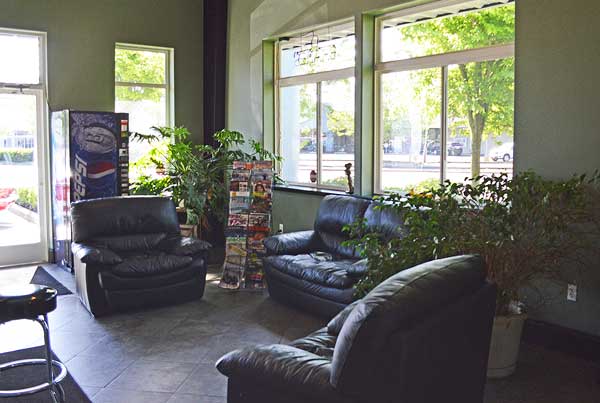 Ready to get an estimate ?
Want to Leave us a Review ?
Here at Orchards Muffler we take customer satisfaction seriously. If you've had your vehicle serviced by us, we would appreciate your feedback. We've made it simple, just click the button and we'll do the rest.
Orchards Muffler
Average rating:
12 reviews
Oct 15, 2017
Great People
Love this place. Always great service with great people to be around. I will diffidently be coming back here again when i need exhaust work done. VERY Professional Work!! Would Very Highly Recommend to anyone needing exhaust done...
Jul 18, 2017
Knowledge and Expertise
110% satisfied with the expertise and knowledge from Orchards Muffler! Want to be a satisfied customer? Want great customer service? Want quality pros working on your SUV at a fair price? Go see these guys! I've interacted with this team for 2 weeks trying to find the perfect custom exhaust/tip setup and they did not disappoint. From the coolest service writer (Salinas represent w/jokes) to the exhaust specialist, they handle their business. Shout out to Rick the "All-Star" for doing a professional job on my dual tip setup. I picked the muffler and he did the rest. Couldn't find a tip I liked so he looked one up and had it ordered. I was pleasantly surprised. Watch this guy work too, very meticulous. Checking angles on the stands constantly after welds and open to all input on how YOU want the angle of the tips to sit! Thanks for delivering what i envisioned and being a pro Rick! Orchards Muffler takes care of it's customers, now go find out for yourself.
Mar 8, 2017
Same Day Service
Was a little bit pricer than I expect but man.... they do a good job. Was very satisfied with my muffler delete, got it done the same day I dropped it off. Very satisfied
Oct 25, 2016
Best Exhaust Shop Around
Best exhaust shop in the PNW. I've gotten 2 vehicles done here. Friendly and extremely fast service. Fair price to get it done right the first time. Highly recommend.
Jul 2, 2016
Affordable
You want a good exhaust job come see these guys. Very affordable and does a great job
Jun 13, 2016
Professional Environment
Got my truck fixed here, wasn't cheap but job done right. Just by entering the place you can tell they are professionals. I recommend this shop.
Mar 18, 2016
Very Reasonable
I received very quick and professional service here for a small exhaust fix at a very reasonable price. The staff were pleasant and helpful, I would certainly recommend these guys.
Mar 14, 2016
Highly Recommend
We took our car to Orchards Muffler. The service was awesome! We found out one small piece of the muffler needed replaced. We ran errands and we we came back it was fixed. It cost about a hundred dollars and we could hear ourselves think again. Highly recommend. There is extra parking down the road.
Mar 8, 2016
Highly Recommended
got my flowmasters done here. very quick and affordable, i would highly recommend coming here.
May 21, 2015
Great Service
Really nice people and great service. Been in only a few times and definitely will be going in more.